Moser, Dr. Mary Anne , 2011 Excellence In Science And Technology Public Awareness – Winner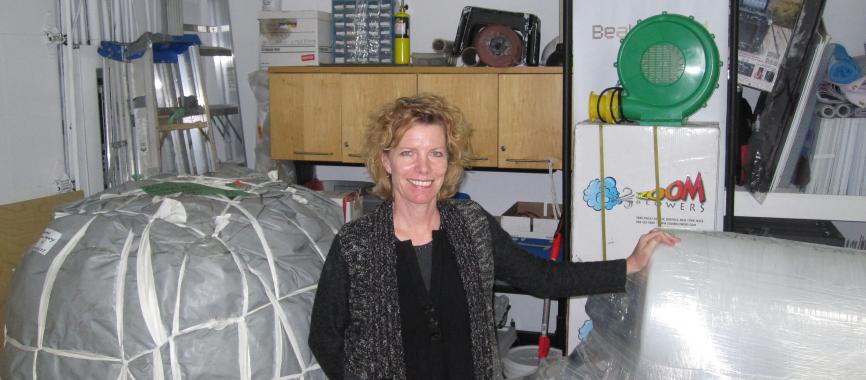 Dr. Mary Anne Moser was recognized for her work on multiple projects related to raising the visibility of science and technology innovation in Alberta. One of her major contributions was the annual two-week Science Communication program at the Banff Centre. She was, and still is, the director of this program which has seen over 150 professionals take part. She was also the director of communications for the University of Calgary's Schulich School of Engineering and has edited two books about science and technology; the first, Immersed in Technology: Art and Virtual Environments was released in 1993, and the second, Science, She Loves Me came out in 2011.
Since winning her award in 2011, Dr. Moser has been very busy. With her partner, Jay Ingram (of Daily Planet fame), she has created Beakerhead, an annual, week-long "smash-up" of art, science and engineering. It takes place throughout Calgary and features interactive displays meant to advance the understanding of science and engineering as a part of everyday life. The displays are diverse, ranging from a 40-foot tall rocket-ship, to sampling "engineered eats" at restaurants. In essence, it's an entertaining door into the world of art, science and engineering.
Since winning the ASTech Award, what have you been working on?
Beakerhead. For the past year, it's been all day every day. I also did a year-and-a-half stint at Cybera, a very innovative organization. There is also the Banff Science Communication program which is going into its tenth year. Science communications flies under the radar, but it's so important. Training a cadre of people who specialize in science communication; audience-focused science communication is so important. Scientists may not necessarily be trained in or interested in communicating. When they are, they may be so passionate about their own science that they can sometimes forget to see if people are actually listening.
To get to where you are today, where there any specific people or organizations which helped you on your way?
Many. I had attended the ASTech Awards many years prior [to winning], and was influenced by quite a few of them. For example, I've worked for Brian Unger, [1993 ASTech Award Recipient] and Elizabeth Cannon [2009 ASTech Award Recipient, and President of the University of Calgary]. Jay Ingram, my partner in just about everything, has had a huge influence on just about everything. Jasmine Palardy, who was the first staff person we hired at Beakerhead, was instrumental in turning Beakerhead from an idea I cooked up one day in my home office to a real thing. The person you get in your first paid position can really make or break things, and we lucked out with her. I suspect she'll be an ASTech recipient someday. Beyond that, there are probably thousands of people.
In terms of funding support, is there anyone you'd like to recognize?
Suncor was a founding sponsor. Talisman came in with a three year gift. Both levels of government, federal and provincial, recognized the game changing potential of Beakerhead and were instrumental in getting it off the ground. The City of Calgary provided funding to do a preview and we've had some terrific champions on city council.
Can you explain what you mean by the preview?
In 2012, in conjunction with the Stampede's 100th anniversary, we did a little taste of Beakerhead in July just to see if people would resonate with the idea of engineered art. The first full Beakerhead was in September 2013.
In creating Beakerhead what were some of the challenges you faced?
At first we were selling a concept. It was nothing, just an idea. So like any start-up we were selling an ambition and people didn't know what it would look like, how they would be involved, what it would smell like, feel like, look like. So that was tricky.
You also have to really be thinking about where you want to be and not where you are. The reality is, in getting anything going, if you took your immediate environment as your roadmap you wouldn't get anywhere. You really have to picture where you're going. There are lots of challenges: there isn't enough funding; people don't understand what it is. Maybe the funding is there but nobody wants to be first. There is risk involved in doing something that hasn't been done before, and by definition Beakerhead is supposed to be innovative, so it shouldn't look like anything that is easy to describe, and that makes it harder.
What notable successes have you had so far with Beakerhead?
165 million media impressions! That's a combination of earned, paid and social media, but we're killing it on that front thanks to Michelle Htun-Kay, our marketing director. I am proud that we didn't have a sophomore slump in year two, despite a sudden snowstorm on the first day of Beakerhead.
The thing that has been really neat is that when we have been bringing people from all around the world, like Vienna or California, Barcelona, when they get to Calgary they like what they see and feel. That's not us doing that, we're just bringing them here, but they like the people they meet and the vibe. Our success is tied to something much bigger than ourselves; it has to do with all the collaborators.
Do you have any advice for people wanting to follow in your footsteps?
Have courage, stick with it, do your research and find good people.
What's next for Beakerhead?
With the economy doing what it's doing, there are some question marks, but we are in it for the long haul. We are very excited about what is in the hopper for year three. We are hoping we can get behind creators right here in western Canada and help to bring more of them onto this stage.