Congratulations to the following individuals and companies who have been selected by the adjudication panel as Winners and Finalists for the 30th Annual ASTech Awards.  Winners were announced Nov. 1 at SAIT at the ASTech Awards and NextGen Innovators Showcase.
Outstanding Achievement in Science and Engineering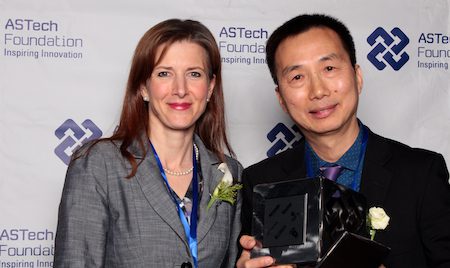 WINNER: Dr. Biao Huang – Professor, University of Alberta
Many researchers focus on addressing the environmental consequences of the processes that make up oil sands operations. Dr. Huang focuses on the systems that control these processes by using predictive modelling and inferential sensing developments to vastly improve accuracy and reliability. This technology is being used by Syncrude, Suncor, Cenovus, Imperial Oil, Husky, CNRL and Teck Metals and is demonstrating significant economic and environmental benefits. Read more.
Outstanding Achievement in Technology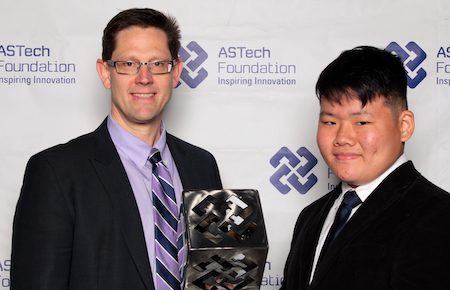 WINNER: Dr. Joo-Hwa (Andrew) Tay – Professor, University of Calgary (posthumous)
Dr. Tay's research was dedicated to developing leading-edge and sustainable biotechnological processes to treat municipal and industrial wastewater. Aerobic granular sludge technology (AGS) is more efficient and effective than the most commonly used treatment process. The portability and adaptability of AGS allows it to be used across a number of industrial applications to remove contaminants from wastewater. See more.
Outstanding Achievement in Applied Technology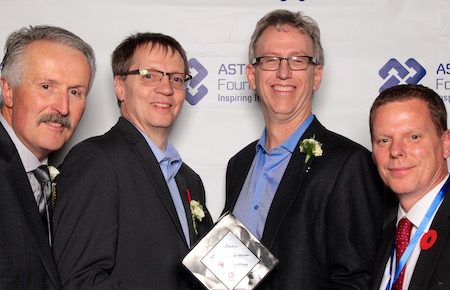 WINNER: VizworX – Calgary
In the construction industry, rework due to errors in the design process can cost significant time and money on the physical job site. VizworX's Panoptica technology uses real-time visualization to enable users to walk through any CAD or design model in full 1:1 scale. By interacting with 3D models as if they were physically in the room, before being built, teams build a project right virtually before building it wrong physically. Read more.
Outstanding Science & Technology Start Up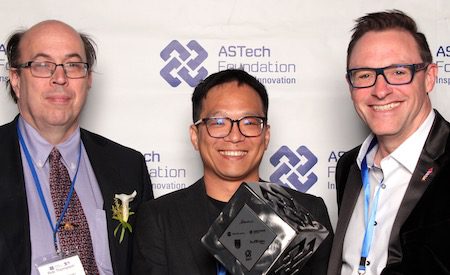 WINNER: SensorUp – Calgary
SensorUp is a cloud-based Internet of Things platform that aggregates IoT silos into a coherent system of systems and transforms them into actionable insights. Industrial companies leverage SensorUp to unlock real-time operational data and receive early warnings before problems happen or lives are risked. SensorUp's clients include the US Department of Homeland Security, Lockheed Martin, NASA JPL and Cando Rail Services. Read more.
FINALIST: Neuraura Biotech Inc. – Calgary
The field of neuromodulation has the potential to treat a broad range of psychiatric, neurological and sensory conditions. Neuraura is revolutionizing the industry through advanced neuro sensor technology, currently in epilepsy surgery. Neuraura's technology is outperforming legacy sensors because it is 350x smaller, provides 20x greater spatial resolution and generates a 3x improved signal-to-noise ratio. Read more.
Outstanding Achievement in Energy & Environmental Innovation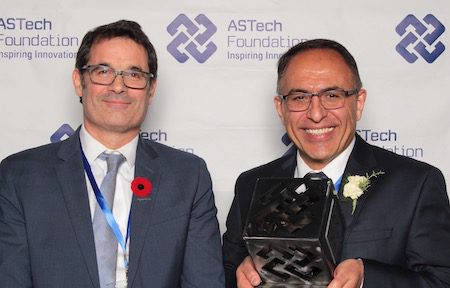 WINNER: Dr. Nader Mahinpey – Professor, University of Calgary
Dr. Mahinpey holds the NSERC Industrial Research Chair in Novel CO2 Capture Technologies for Oil Sands Operations. His research revolves around economically viable capture and conversion processes to address major concerns with green house gas emissions. By capturing and converting CO2 into economically viable substances, these developments bridge the gap between short and long term solutions. Read more.
FINALIST: Reservoir Geomechanics Research Group – University of Alberta
An understanding of geotechnical mechanisms of deformation and failure over long periods of time is needed to mitigate long-term risks associated with energy projects. Spearheaded by Dr. Rick Chalaturnyk, the Reservoir Geomechanics Research Group develops tools to test and collect accurate and reliable data in hours, not decades, through a number of novel research facilities and experimental modelling processes. Read more.
FINALIST: Dr. Tariq Siddique & Dr. Aman Ullah – Associate Professors, University of Alberta
Using poultry feathers, Dr. Siddique and Dr. Ullah developed keratin biopolymers that have shown to be an innovative and promising technology for the simultaneous removal of multiple contaminants from oil sands process-affected water. By using an abundant waste material, the converted keratin biopolymers have tremendous potential as sorbents for large-scale application. Read more.
Outstanding Achievement in Health Innovation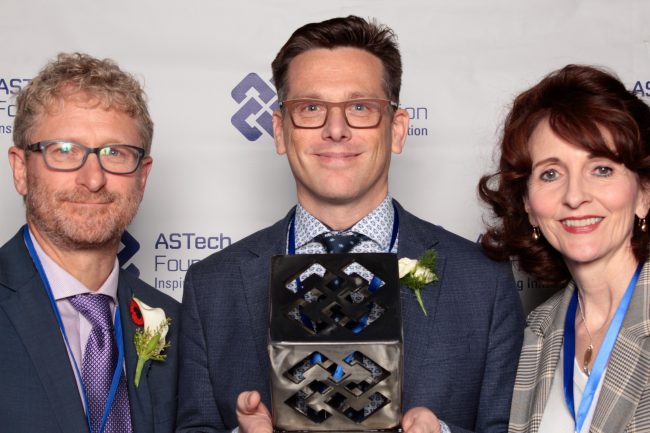 WINNER: Dr. James White – Cardiologist, Clinician Scientist and Professor, University of Calgary
Dr. White develops innovative digital health tools designed to collect, standardize and integrate patient-specific diagnostic test data instrumental in predicting cardiovascular issues in individual patients before they occur. Dr. White founded Cohesic Inc., an Alberta-based company that commercially delivers these cloud-based tools to healthcare institutions across Canada and around the world. Read more.
FINALIST: Dr. Vincent Agyapong – Clinical Professor, University of Alberta
Long wait times and geographical barriers are common problems facing Albertans trying to access counselling for addiction and mental health issues. Dr. Agyapong developed Text4Mood, a program for those in need to self-subscribe to receive daily supportive text messages. The program has shown clinical effectiveness in two randomized pilot trials. Read more.
FINALIST:  Mr. Tim Davies – Turkana CEO, Calgary
Davies brought geophysical imaging principles to the medical field to quickly and non-invasively locate and characterize biological tissues in potential breast and prostate cancer patients. This imaging technology locates tumours as small as 2mm to better detect, diagnose and develop treatment for cancer patients. Read more.
Outstanding Achievement in Information & Communications Technology
WINNER:  Lyryx Learning – Calgary
Online assessment platforms for education generally determine if a student has learned the material through a summative assessment, such as a multiple choice test, but lack the guidance of real formative assessment provided by an instructor. Lyryx Learning overcomes these limitations by implementing algorithms and harnessing content experts to deliver online personalized feedback. Read more.
FINALIST: Aimsio – Calgary
Aimsio develops software to help energy and construction companies digitize, transform and automate inefficient field processes, resulting in better dispatching, better field data capture and more efficient reporting on operations and profitability. The app and web portal help companies make more informed decisions through access to fast and accurate data on a centralized platform. Read more.
Special Award: Outstanding Contribution to Wireless Technology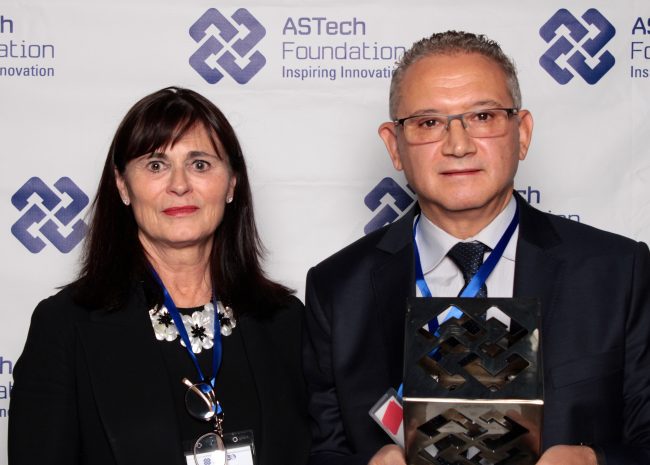 Dr. Fadhel Ghannouchi – Professor, University of Calgary
Wireless connectivity is a crucial facet of modern life and the development and improvement of these technologies has far reaching benefits for industry and consumers. Dr. Ghannouchi and his team developed digital predistortion techniques which have revolutionized the industry by improving the cost, efficiency and deployment of wireless networks. This technological breakthrough allows for more data transfer and increased connectivity and has been adopted worldwide. Read more.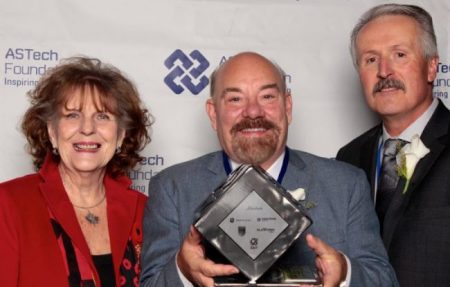 Lieutenant Governor Lois Mitchell and ASTech Board Chair Rick Tofani congratulate Martin Kratz for 30 years of dedicated leadership to the ASTech Foundation. See more.