ICE Series 5: Best Practices in Building Innovative Communities and Research Parks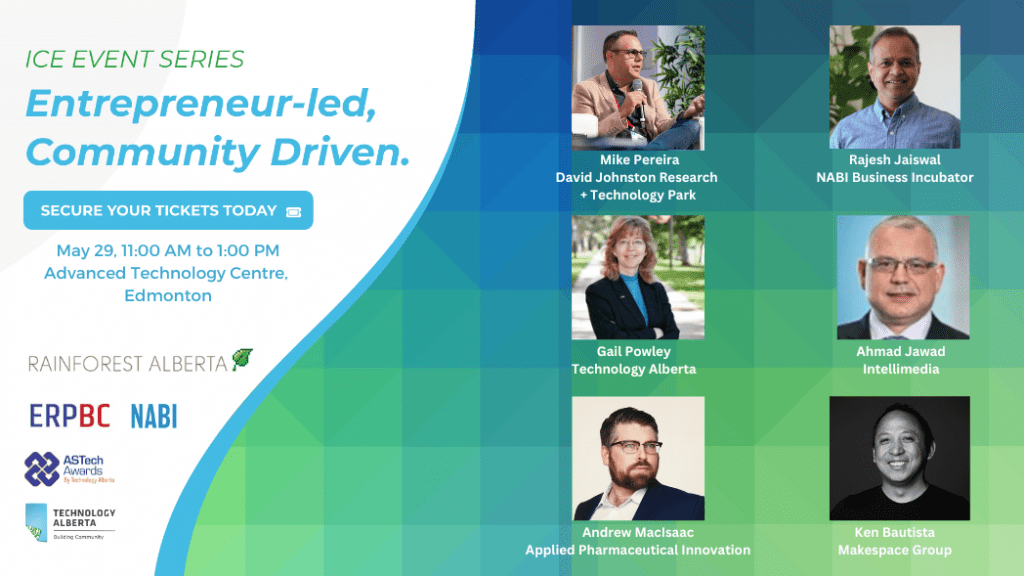 The ICE Events Series: Co-hosted by Technology Alberta and the ASTech Awards shares the work of Alberta tech companies and innovation champions while connecting Alberta talent.
Join us and fellow Innovation Community members – entrepreneurs, academia, government funders, and more – at this entrepreneur-led event.
Date: May 29, 2023, 11:00 AM – 1:00 PM (Light lunch provided)
Venue: Advanced Technology Centre, 9650 20 Avenue Northwest Edmonton, AB T6N 1G1
Come along for a panel session, food, networking and community. Hear insights into innovation, community-building, and research park collaborations across Canada – drawing from mechanisms, systems, and best practices for building meaningful partnerships for greater impact.
Program Managers of Technology Alberta's First Jobs Program and ASTech Awards will be on hand to answer questions.
Innovation Champion Co-hosts: Edmonton Research Park Business Consortium (ERPBC)
Event Partner: Northern Alberta Business Incubator (NABI)
Required Dress Code: Business Casual
Disclaimer:
Please note that by registering for a ticket, you consent to photos and videos being taken of you that may be used for future promotional and marketing purposes.
Want to be part of a future event? Let us know! president@technologyalberta.ca