2015 Winner: Innovation In Agricultural Science Sponsored By Dow AgroSciences Canada Inc.
Streamlining the beef industry through communications technology
When Glen Kathler talks about his work, he uses a lot of acronyms. But although terms like Radio Frequency Identification (RFID) and Ultra High Frequency (UHF) sound like something out of a science fiction novel, an endless amount of real-world applications exist for the technology today.
"All industries are looking for ways to be more efficient and more accurate with how they track inventory and assets," Kathler says. That can be from the beef industry, which is what this project is focusing on, to oil and gas. The projects are system-specific, which allows for multiple applications.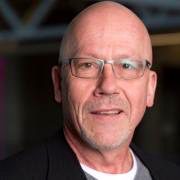 "The technology is industry agnostic and we get opportunities from industry partners, sometimes via government grants or industry specific funding, to look at using this technology to do something that hasn't been done before," he says.
For Kathler and the rest of the team at the RADLab at SAIT Polytechnic, their primary focus is the agriculture industry. Rather than automating the industry, Kathler and his team are building a system to complement the human side of the work. By using technology, Kathler and his partners believe they can minimize the costs – economically and to the animal – of transporting cattle from place to place.
Squeezing out maximum efficiency
Kathler's team leverages UHF-RFID technology to replace the current system of monitoring animals during transportation where workers individually log each animal by manually scanning their tags at a squeeze chute. With the increased range and accuracy in the new UHF-RFID tags, large batches of animals can be scanned at once, from a distance.
The idea was developed through conversations with Alberta Livestock and Meat Agency. "Every time they need to restrain animals at a feed lot, which is every time they need to read a tag, they have to put them through the squeeze chute, read the tag and confirm the animal," Kathler explains.
"All of that has to be done on a one-by-one basis, and feed lots say one to two per cent of the body weight is lost every time that animal gets squeezed," Kathler says. For the average weight of 700 pounds per animal in a pen of 300 animals, the numbers add up very quickly.
By reducing the need to isolate and restrain animals, the result is healthier animals that hold better value. The resulting effect benefits ranchers and feed lots alike. Animals' tags are read at each point of transportation, so reducing the exposure to stress and weight loss creates higher yields.
Containing a crisis before it begins
When considering how else the technology could be used, Kathler says the integration of metadata could prove to be useful to the general public in times of crisis.
Speaking about incidents such as the Mad Cow crisis in 2003, Kathler explains how this technology could have been used to prevent chaos. "A UHF traceability system would allow for quicker access to animal ID's and Co-Location information when needed," Kathler says.
"This technology has the ability to integrate into the Canadian Food Inspection Agency's (CFIA) mandate for traceability and enhance the systems current capabilities," Kathler says. "That's their biggest challenge right now, is how do you trace back through all the animals that the original animal was in contact with?"
The system that Kathler and his team have designed uses very advanced technology. Data could potentially be stored on each tag to determine point of origin, other animals that were grouped with the cattle and at which feed lot the animal landed. The data can then be used to quarantine a limited number of animals in the case of a crisis, minimizing loss and impacting the consumer less.
"We're not completely there yet, but that's the vision I see for this technology," Kathler says. "We are always trying to promote the flexibility of this technology and that even in one industry it is flexible enough to meet many needs and fit most processes."
Not only would the information help in the case of a recall, but it could allow consumers to understand more about their food.
"Pretty soon the technology could pass the chasm to the packing plant and that information about that animal carries over to the consumer when they go to buy a pack of steaks," Kathler says. "Maybe there will be a tag on the pack of steaks and you scan it with your phone, and it'll tell you where the food came from as well as any history of the animal you may care to lookup."
"Consumers have been made aware that this farm-to-fork information is a possibility and the industry is investigating solutions to accomplish this," Kathler says.
Kathler says it's important to be ambitious when looking at projects of large importance, because it helps him and his team determine how the project can impact the bigger population over a long period of time.