Core Awards:
Outstanding Achievement in Science & Engineering
WINNER:  Dr. Zhenghe Xu – Professor, University of Alberta
Dr. Xu is a world leader and Canada's foremost expert in the development of state-of-the-art interfacial science to advance mineral processing and improve bitumen recovery from oil sands. Dr. Xu pioneered the use of modern scientific methods to understand underlying theory to optimize and revolutionize the processing of natural resources while reducing the environmental impact.
FINALIST:  Dr. Mauricio Sacchi – Professor of Physics, Chair of Physics Dept., University of Alberta
Under the guidance of Dr. Mauricio Sacchi, the Signal Analysis and Imaging Group initiated 5D seismic data reconstruction, allowing contractors worldwide to improve the quality of seismic data and subsurface imaging of hydrocarbon targets. These developments have had a profound impact on the way seismic data is preconditioned and processed by seismic contractors.
Outstanding Achievement in Technology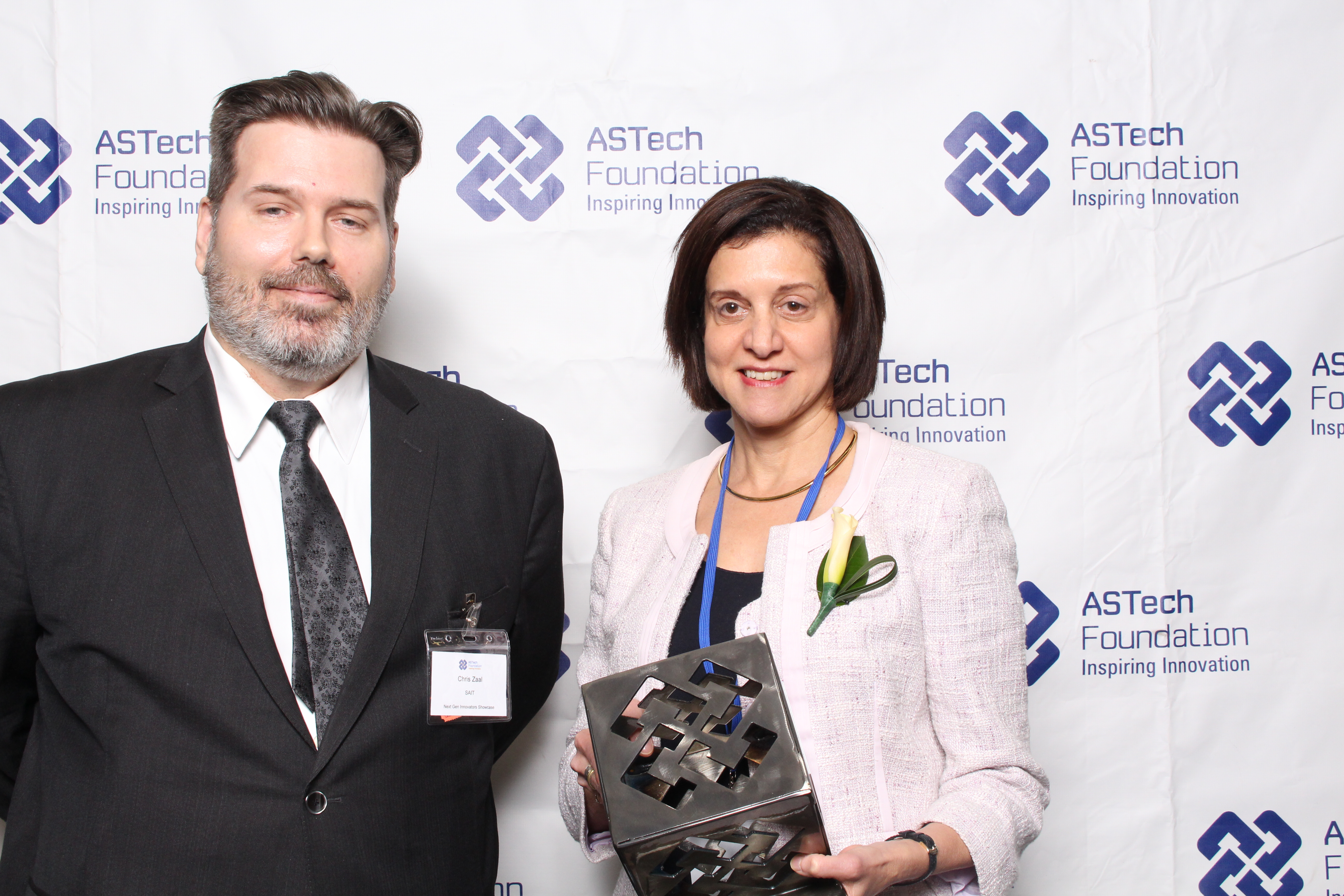 WINNER: Dr. Orly Yadid-Pecht – Professor,  University of Calgary
Dr. Orly Yadid-Pecht's Wide Dynamic Range (WiDR) sensing chip is the first technology of its kind that permits sensors to function effectively, with high sensitivity, in extreme variations in light intensity. Unlike traditional sensors, WiDR chips can consistently and rapidly obtain real-time, high-resolution images of both dimly and brightly lit elements in fast moving scenes.
FINALIST: Dr. Naweed Syed – Professor, University of Calgary
Dr. Naweed Syed developed novel semi-conductor, neuron-chip technology that allows concurrent recordings of several hundred brain cells at a resolution never before achieved. The "lab on chip" technology provided the first direct evidence that brain cells can be interfaced with semi-conductor chips, which could lead to the future development of brain-controlled prosthetic devices.
Outstanding Achievement in Applied Technology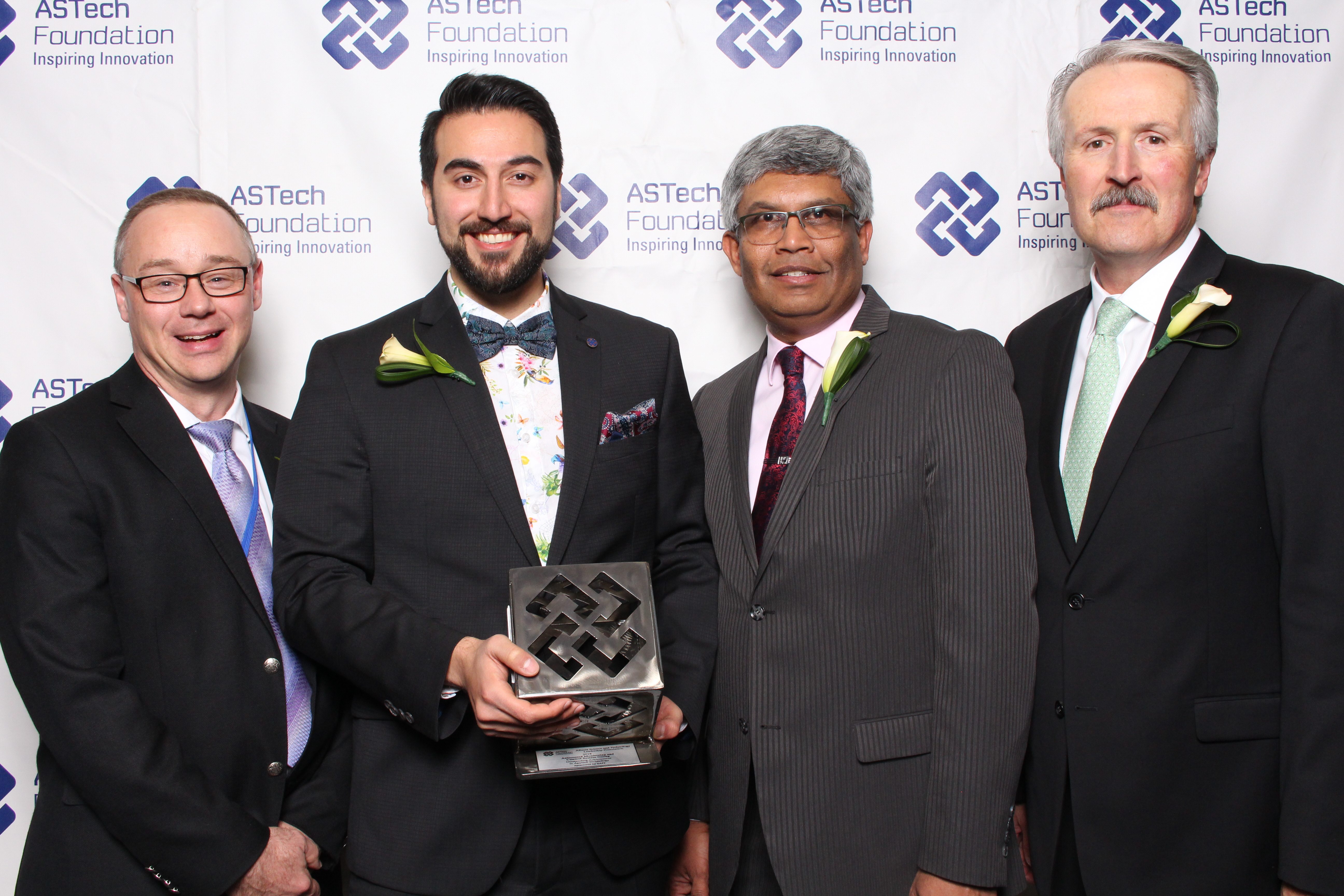 The Automated Monitoring and Control System Group developed technology to provide a comprehensive and integrated framework to automate process monitoring of construction projects. Using point clouds acquired from construction sites as input, the technology provides a robust, automated and integrated framework for a multitude of construction applications. The group is helmed by Dr. Reza Maalek, Dr. Derek Lichti and Dr. Janaka Ruwanpura.
FINALIST: Dr. Reed Ferber – Professor, University of Calgary
Dr. Reed Ferber and his research team at the Running Injury Clinic have transformed clinical practice by developing two unique 3D scientific gait analysis tools: 3D GAIT and KinetiGait. Currently used by over 100 clinics and research labs around the world, Dr. Ferber's tools have created a community of clinicians and scientists who work together to improve patients' quality of life while reducing the societal economic cost of musculoskeletal injury.
Outstanding Science & Technology Start Up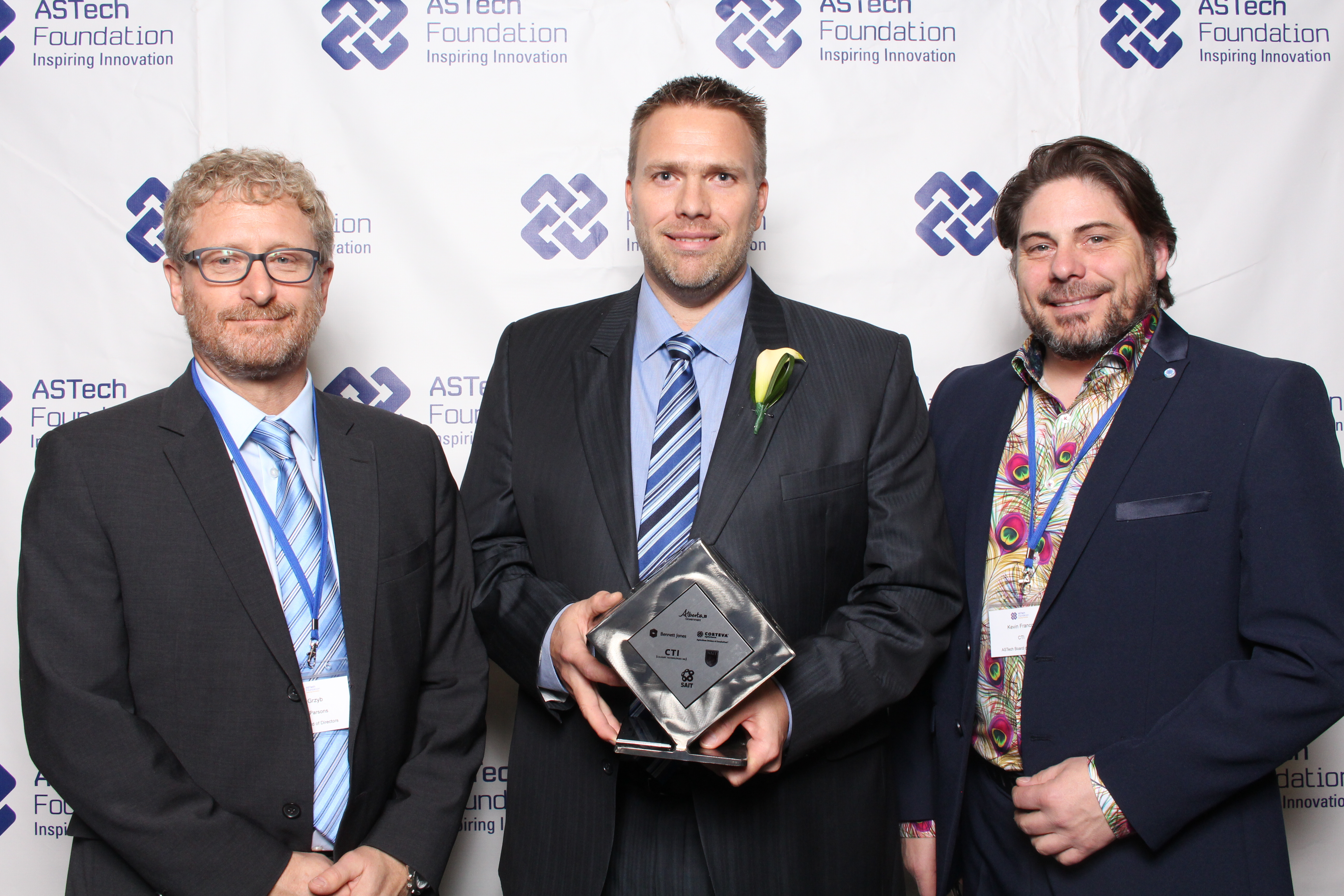 Enersoft's core business is the complete and cost-effective analysis of geological samples at the elemental, molecular and structural level, and the integration of that data with other geoscience data for a complete geological analysis. Enersoft's technology results in faster speed and reduced costs, enabling continuous core sample analysis at high resolutions in the energy and mining industries.
Outstanding Commercial Achievement in Science & Technology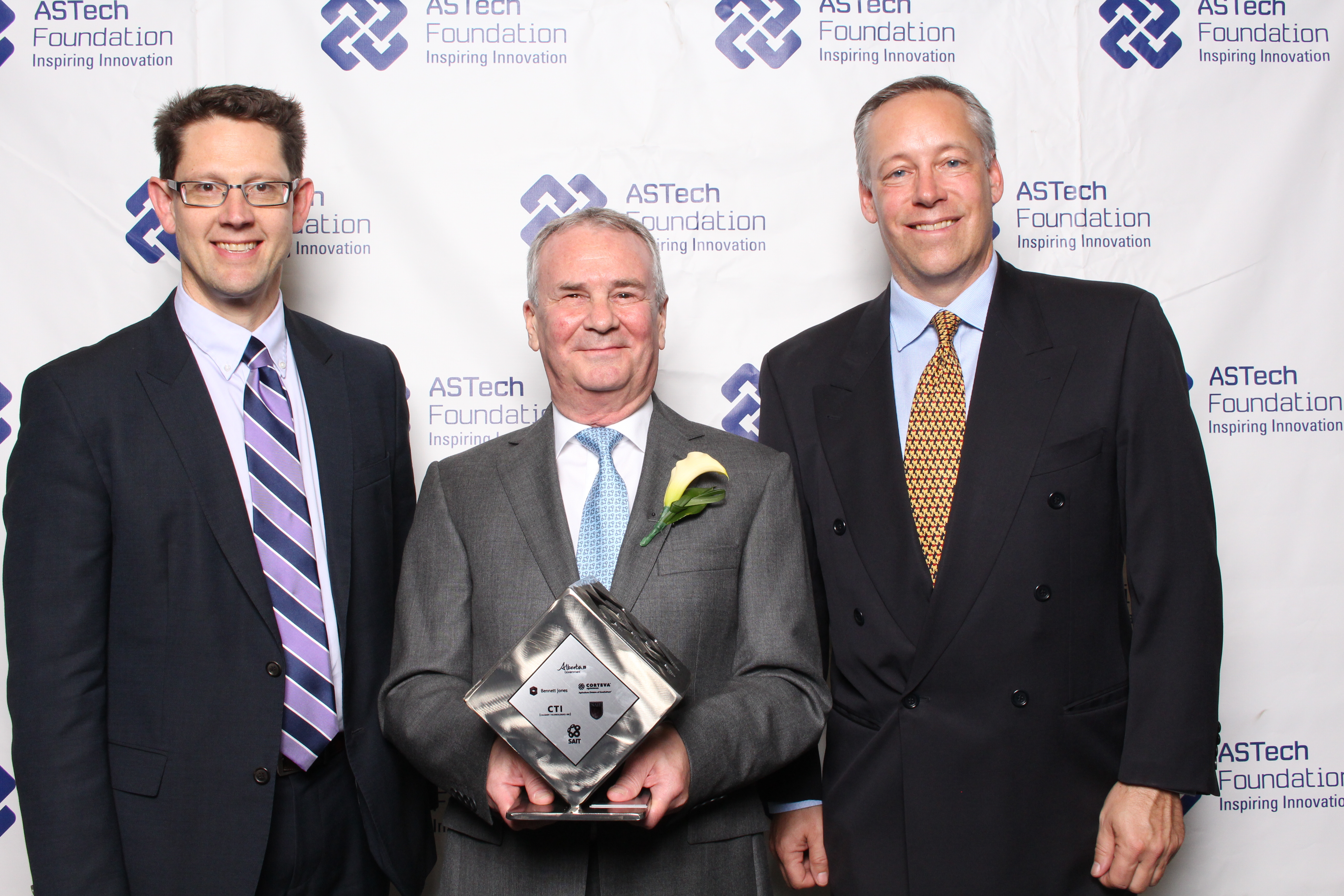 As oil and gas producers continually look to optimize production, SSi Artificial Lift saw an opportunity to innovate traditional beam pumps to find the most efficient means possible to extract crude oil from the reservoirs. Their innovation uses nitrogen as a counter balance, requiring far less energy. This innovation has reduced operating costs, improved energy efficiency, increased production, leveraged artificial intelligence technology and improved safety.
FINALIST: VizworX – Calgary
The Calgary-based company of developers and designers helps decision makers better engage with their data through technology solutions in a variety of domains, including augmented reality, virtual reality, artificial intelligence, data visualization and the Internet of Things. VizworX provides innovative products that allow users to visualize and interact with data to solve real world business problems.
Outstanding Leader of Tomorrow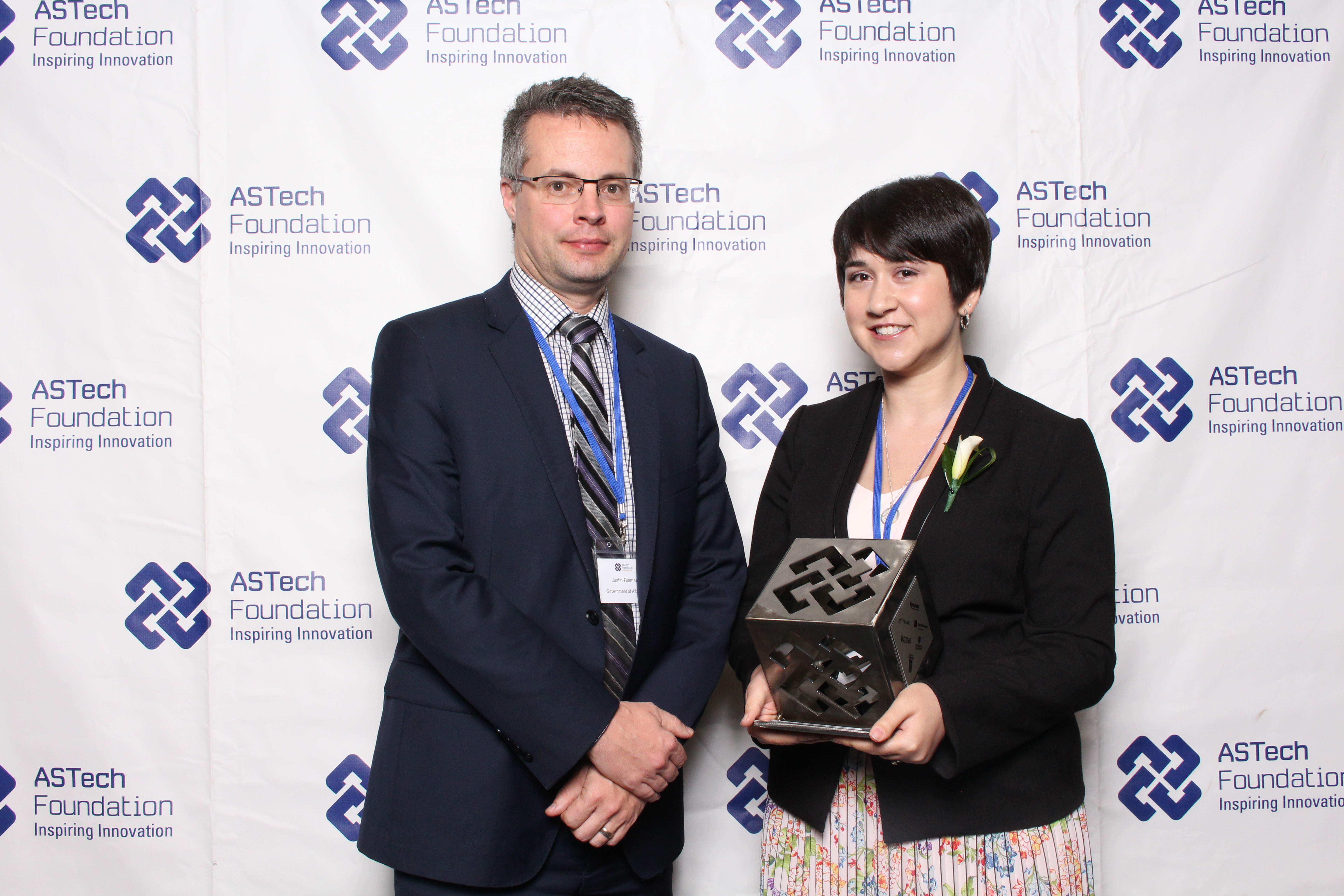 WINNER: Dr. Emily Marasco – PhD Candidate, University of Calgary
Dr. Emily Marasco is an established leader in engineering, educational and social innovation. Her research has had a significant impact on technical engineering education at the Schulich School of Engineering. Dr. Marasco's community involvement extends into her work as an education specialist with EZ-Robot, as a board member for the University of Calgary Academic Women's Association and as the chair of the Engineering Students Education Society.
FINALIST: Michèle DuVal – MD/PhD candidate, University of Alberta
As a MD/PhD student, Michèle DuVal is acquiring a unique skill set that will allow her to effectively translate research findings to the clinical setting. In her graduate research, Ms. DuVal's multi-disciplinary in vivo model system work has led to eight published manuscripts. She has held a multitude of diverse senior leadership positions and community service roles and has demonstrated initiative and involvement in mentorship, outreach, and intellectual property development.
FINALIST: Dr. Tushar Sharma – PhD Graduate, University of Calgary
Having recently defended his PhD thesis, Dr. Tushar Sharma has already demonstrated research and community leadership at the university, provincial and international level. As President of the Electrical and Computer Engineering Graduate student association, and Chairperson of the IEEE Young Professionals, Dr. Sharma developed numerous industry partnerships and successfully organized multi-disciplinary initiatives, workshops, and lectures in Alberta.
Sector Awards:
Outstanding Achievement in Agricultural Innovation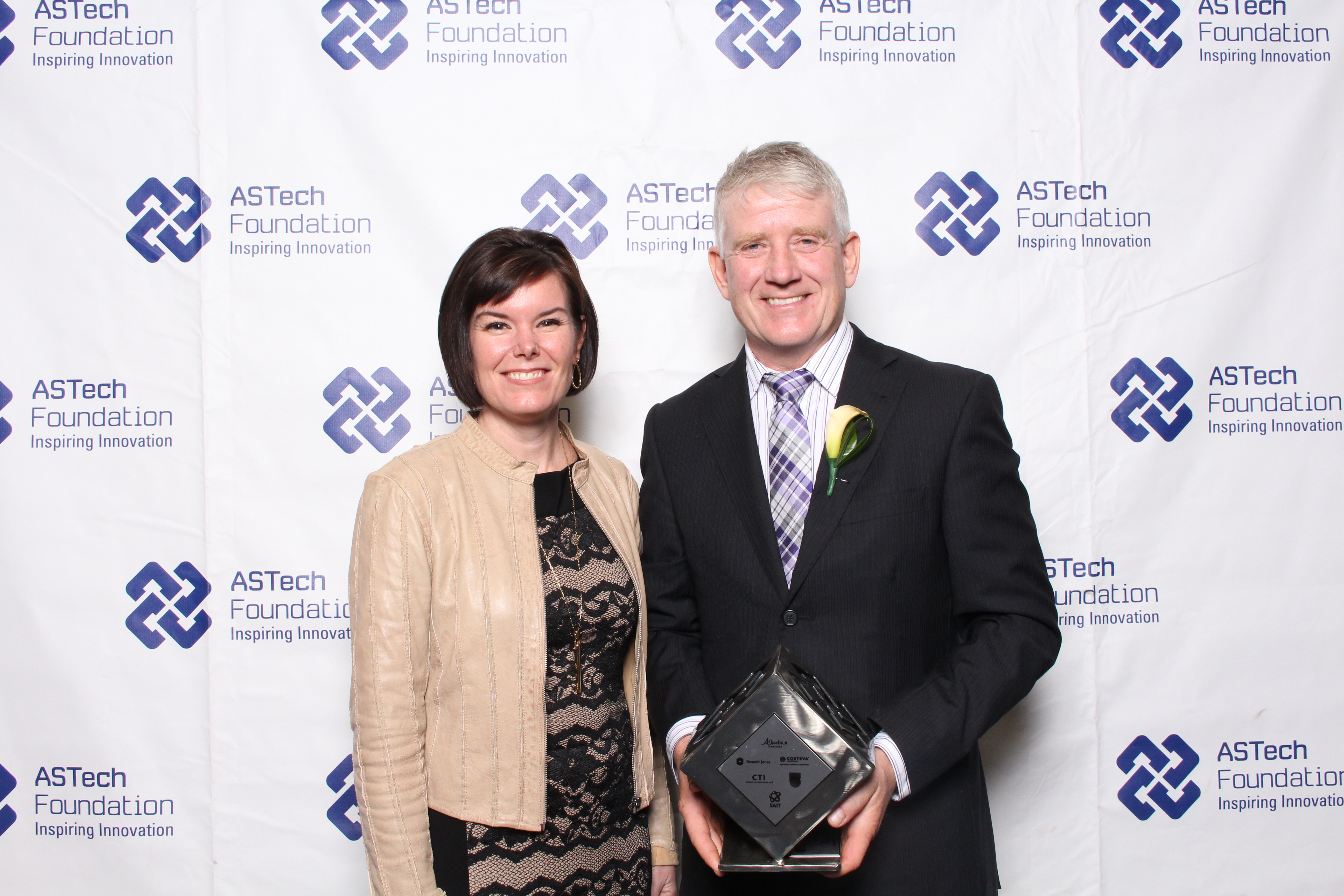 WINNER: Brian Tischler – Farmer – Mannville
Open source agricultural applications are few and far between. Brian Tischler developed and documented AgOpenGPS and AgraBot, helping farmers all over the world build low-cost precision agriculture, machine control and fully autonomous agricultural vehicle systems. This software helps farmers work collaboratively to help other farmers around the world.
Outstanding Achievement in Energy & Environmental Innovation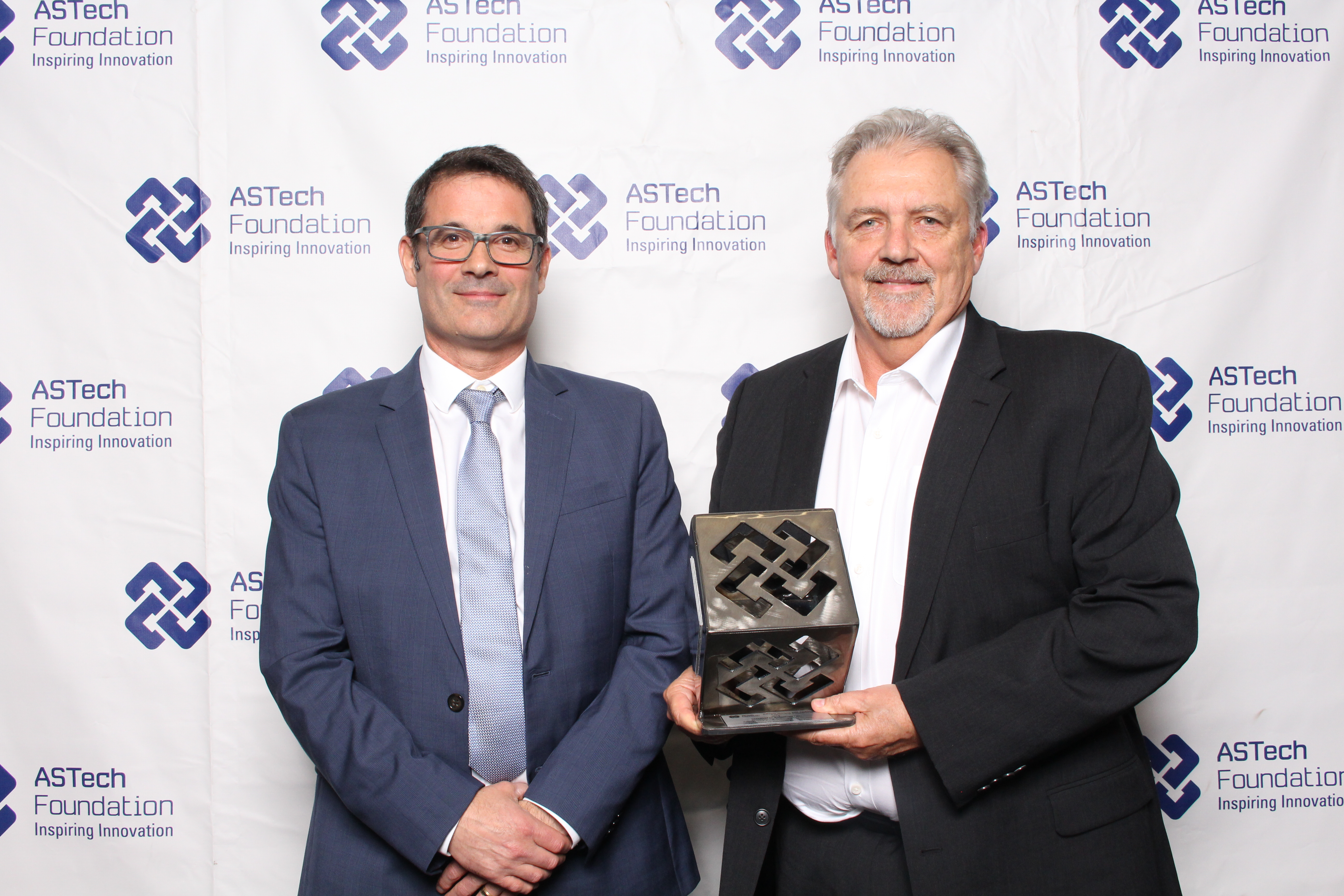 OneBridge transforms pipeline integrity management through development of its enterprise SaaS-based solution, Cognitive Integrity Management. CIM uses machine learning to assist pipeline operators and regulators to achieve their stated objective of predicting oil and gas pipeline failures, to save lives, reduce costs and save the environment.
FINALIST: Dr. Nader Mahinpey – Professor, University of Calgary
Dr. Nader Mahinpey holds the NSERC Industrial Research Chair in Novel CO2 Capture Technologies for Oil Sands Operations. His research revolves around economically attractive reduced CO2 emissions capture for energy producers and developing novel technology to convert the carbon into useful products, thereby bridging the gap between short and long-term solutions.
FINALIST: Dr. Aaron Redman – Senior Environmental Scientist, Exxon Mobil
Sustainable oil sand operations will eventually include the return of treated process-affected waters to the environment, after hazards and risks are evaluated and water quality benchmarks are established. Dr. Aaron Redman is laying the foundation for a new generation of oil sands water quality assessment, using rapid analytical measurements, which will replace existing industry practices.
Outstanding Achievement in Health Innovation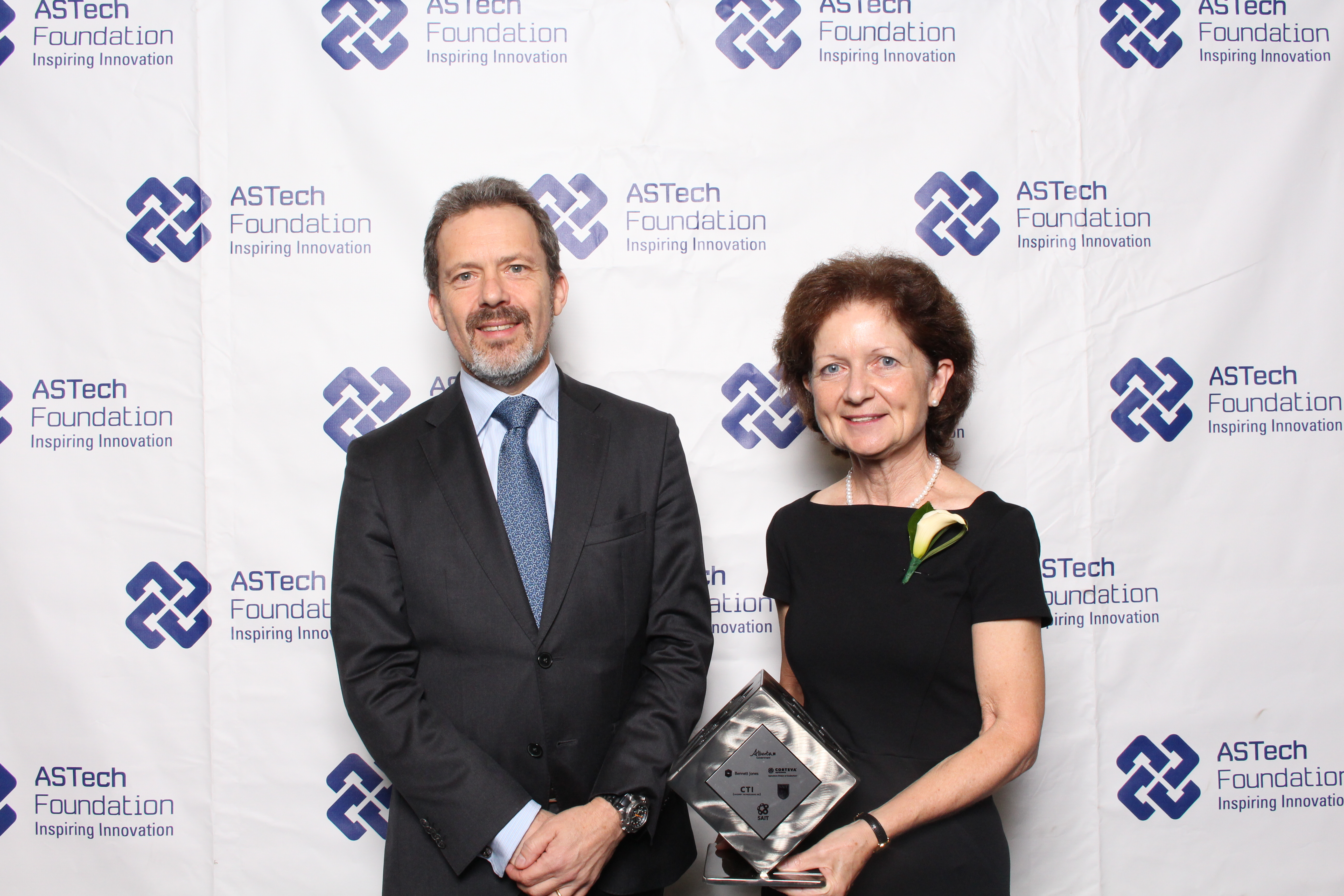 WINNER: Dr. Brenda Hemmelgarn – Professor, University of Calgary
Dr. Brenda Hemmelgarn's pioneering efforts into chronic kidney disease (CKD) have led to the development of the Alberta Kidney Disease Network (AKDN) and the Interdisciplinary Chronic Disease Collaboration (ICDC). Through the AKDN, Dr. Hemmelgarn has built an innovative data platform to identify gaps in CKD care, develop strategies to overcome these gaps, and improve patient care and health outcomes.
Outstanding Achievement in Information & Communications Technology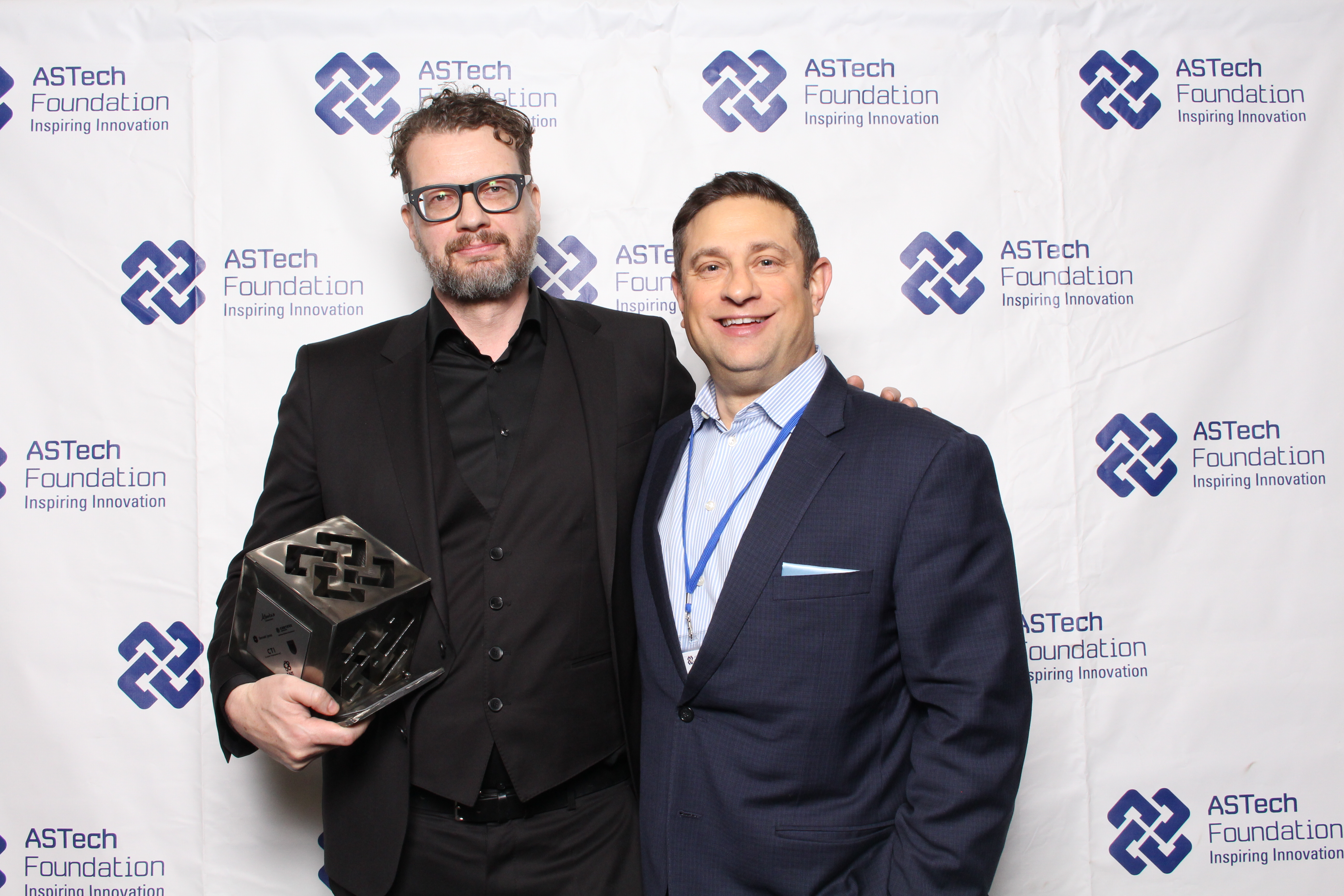 GuildOne's distributed ledger innovation Royalty Ledger helps oil and gas companies and landowners encode their negotiated smart contract into one system, carrying out all subsequent digital transactions based on the agreed-upon terms. Through the system, each royalty transaction becomes a record in a permanent ledger, making the metadata traceable, indisputable and tamperproof. This blockchain solution has no built-in cryptocurrency and does not require crowd-sourced third-party approval.
ASTech Special Award: Outstanding Contribution to Canada's Space Industry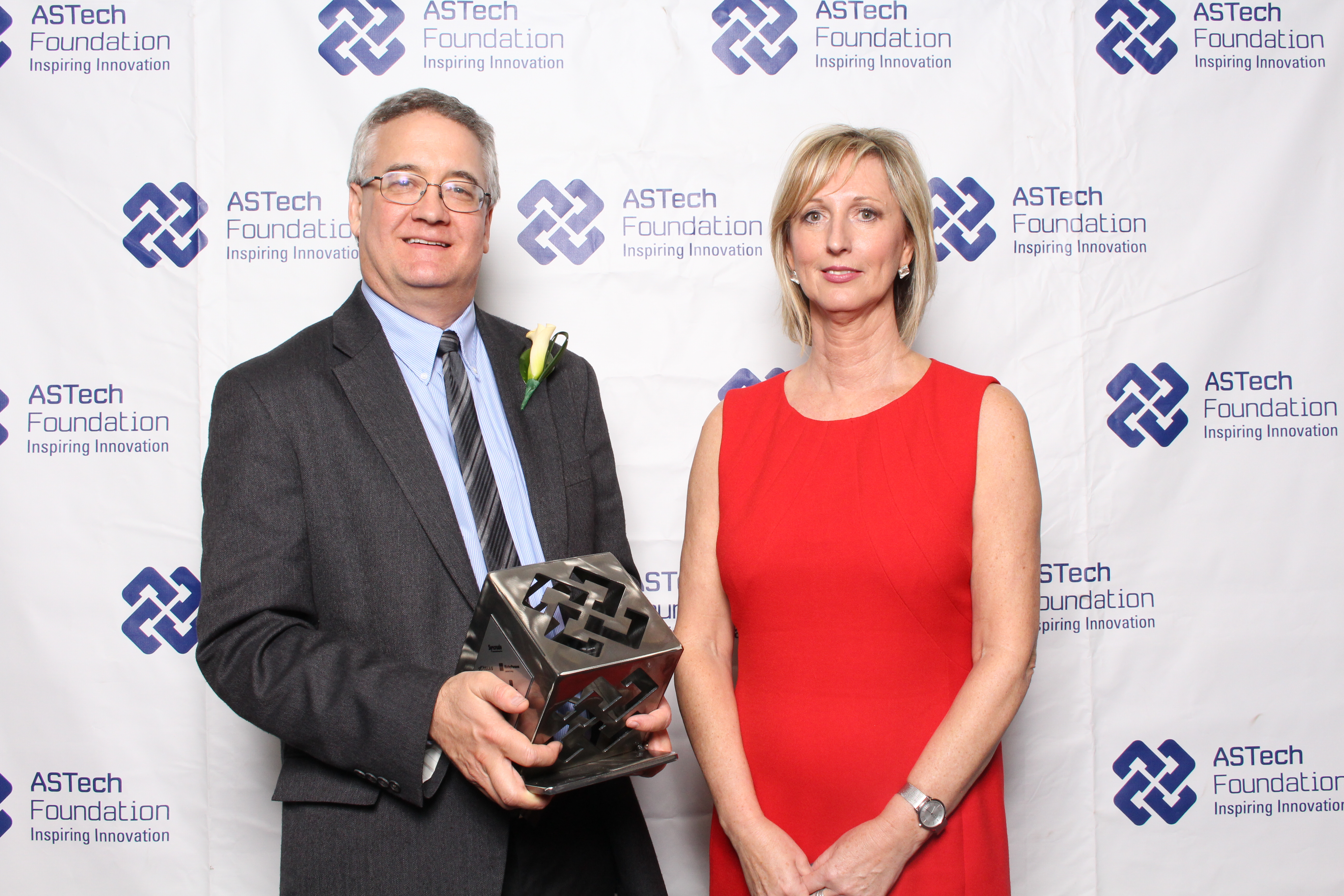 In the late 1990s, exploration of a radically new application of digital imaging technology, known as the Charge Couple Device (CCD), began at University of Calgary. Over ten years, novel CCD-based charged particle imagers were developed and flown into space on a series of sub-orbital sounding rocket flights that led to numerous scientific discoveries. These CCD-based particle imagers became the basis for instruments on two scientific satellite missions currently in orbit with the European Space Agency.