2015 Winner: Leaders Of Tomorrow Sponsored By Alberta Economic Development And Trade
University grad uses past success to focus on leadership role
While his peers were getting inspiration from science fiction, Dr. Ryan Tucker's interest in science and technology was fuelled by a desire to understand what's going on behind the scenes. "I was always interested in the mechanics of how things work as a child," Dr. Tucker says. "I might take apart a toaster – or take apart anything – and try to put it back together."
His desire to complete hands-on experimentation continued through his academic life, and Dr. Tucker spent his summers working on research projects at the University of Alberta. "I was asked by one of my first-year professors if I wanted to work in his lab for a summer and he told me about a funding program that would allow that to happen through Natural Sciences and Engineering Research Council of Canada (NSERC)," Dr. Tucker explains.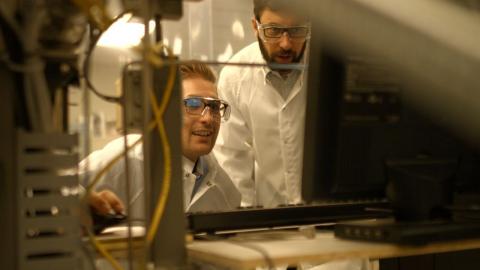 "I took him up on the offer! I wasn't very interested in the traditional engineering stream and a lot of the jobs didn't resonate with me at the time," Dr. Tucker says. "After that first summer I looked for a research position that could feed my interest in nanotechnology and energy, which led to meeting my grad school supervisor and completing a PhD in his group."
Dr. Tucker continued to take advantage of every opportunity he was offered, and eventually this lead him to a research project in the Netherlands. Dr. Tucker says he views science as an opportunity to express his creative side, and the ability to work in small teams helps him engrain himself in each individual project. It is this opportunity to work as part of a high-powered team that eventually led Dr. Tucker back to Alberta.
Working in Alberta
After completing his graduate studies, Dr. Tucker had job offers from the Netherlands and the United States. "I had a very tempting job offer from a Fortune 100 tech company in the USA," he says. "But I kept thinking about what I want to do at the end of the day. What kind of impact do I want to have? I thought that if I want to build something – whether it's a technology or a company – there are many hubs in the world that are renowned for that, but there's no reason I can't do that here in Alberta."
Ultimately, what brought Dr. Tucker back to Alberta was the chance to work on commercialization and product development within a growing organization. "In a small or medium organization you can wear more hats and can learn more at a faster pace," Dr. Tucker says. "With a smaller team you can see the direct role each person had in making a product come into fruition, and you gain a better understanding of the entire process."
At MetalBoss Technologies, Dr. Tucker has transitioned his past work as a researcher to a different area of science and product development. He leads a small applied research team and helps create and take new products to market for environmental protection, water treatment, and sustainable construction.
MetalBoss differs from his academic work, because it focuses on the commercial end of research. With projects at the University of Alberta and in the Netherlands, Dr. Tucker was helping larger research teams pioneer early-stage advanced materials development for energy and electronics. The result of his work at MetalBoss is an exciting opportunity that reaches beyond his past experiences and lets him contribute to the business side of science and technology.
Dr. Tucker says his motives haven't changed. "I'm still very passionate about energy and sustainability, and very interested transitional technologies that will help make the shift toward more sustainable supply chains. I've seen the wealth of technology that exists within research institutions, and I think I can play a valuable role in ushering new technologies onto the commercial stage." He says his work at MetalBoss gives him the opportunity to grow not only as a scientist, but as a leader in the industry.
Becoming a Good Leader
Dr. Tucker says that being part of the team at MetalBoss has helped him better establish the qualities of a strong leader. "I think that a good leader is somebody who has both vision and execution. They can take an idea, and inspire those around them to push and lift and deliver on that idea at a really meaningful level," he says.
Learning from others is also important, and Dr. Tucker says the knowledge he possesses today is a result of working with teams in his current and past roles. "I've had the good fortune to work with and learn from some really incredible people," he says.
Through the next stage of his life, MetalBoss will help Dr. Tucker evolve his leadership skills by helping him apply his knowledge to a business setting. Dr. Tucker says the practical application of his work at MetalBoss is quite different than academic research, but he is already overcoming any obstacle in his path.