Wedge Networks, 2010 Outstanding Achievement In Information And Communications Technology Innovation – Honouree
To say the Internet of Things (IoT) is a diverse category of technology is an understatement. The list of IoT devices includes anything that can be connected to the cloud and, in 2015, this includes refrigerators, ovens, light switches, phones, cars and other devices that might have the word "smart" attached to it. The list is endless.
It is difficult to keep regular Internet usage safe, with researchers expecting the number of connected individuals to surpass 3.3 billion by the end of 2015. So, how do we account for these other devices that we take for granted and who is protecting them?
Wedge Networks was named a finalist for the 2010 ASTech Award for Outstanding Achievement in Information and Communications Technology Innovation for their work on web security. Since 2010, Wedge Networks has grown its operations focusing on protecting cloud-connected devices.
Wedge Networks now provides leading edge cloud security solutions to more than 18 million devices by protecting corporations, Internet service providers and individuals at the network level. This allows Wedge Networks to protect devices before intrusions affect end users and without interrupting systems along the way.
When Wedge was named a finalist in 2010, the technology industry looked a lot different. What has Wedge has accomplished since then?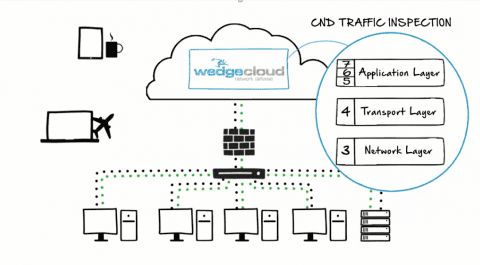 The ASTech nomination recognized Wedge Networks as an innovative technology company, and we have a lot of innovative abilities as a software developer that supplies security solutions to the global IT security market. Since 2010, a lot of things have changed in the global market. We know that security breaches cause damage to the global economy to the tune of around $450 billion each year, and the spending on security fixes is about $60 billion. That's a big gap, and this gap is due to the change in how we use the Internet and how we use information services.
There's a huge emergence of cloud computing and a lot of new devices – the so-called "Internet of Things" devices, portable devices, and medical devices – and all of those things connect to the Internet. Since 2010 our install-base has grown from about five million devices to 18 million devices.
Wedge Networks has seen a lot of growth, and today we have a presence in 17 countries and we partner with many services providers.
How has the technology changed since 2010?
In 2010 we were mainly focused on solving some key technology issues. Wedge Networks defined a security approach called Deep Content Inspection (DCI). In 2010 we had a niche product that leveraged DCI by providing security solutions for enterprises. Since then we have expanded the DCI engine with more patents and with more system modules that make it possible to deploy our solution to cloud centres without installing hardware.
For example, we can install our software in a Fortune 500 company's data centre, and they can use existing hardware so that we can install our software to do the cloud computing. We've really made our product tailored for new connectivity. In our terms, this is called a cloud connected world.
When you were getting started, what kind of networks supported you in your work?
In terms of our support infrastructure, we benefited from the highly skilled workers that are educated by Canadian universities. We also supported university professor groups at the University of Calgary and University of Alberta, and we have benefited from that.
We have been supported by Innovate Calgary, City of Calgary, the Western Innovation Fund, the Alberta government, the National Research Council, the federal government and also our Canadian customers and partners. Starting from June 1st, we upgraded our Calgary based R&D center to a new facility by the airport, which provides us with over 12 thousand square feet. This makes it easier to show case our technology and support services to our global customer/partner base. We are also actively recruiting like-minded individuals to join our growing team.
What kind of challenges do you face daily at Wedge Networks?
My co-founder and I have built innovative companies before, and what we wanted to do with Wedge is to build something with a long lasting and positive impact. We want to create something that we can be proud of, from the point of concept to the point of adoption, and to include our invention with the other successful products in the industry. The key challenge for us is the expectation by the industry that you must sell your company early in Canada. However, that is not our mindset, nor is that how you build world-class companies. I strongly believe we are not doing ourselves a good service if we cannot build a world-class company in Canada.
What advice would you give to somebody in the early stages of their career that might want to take this route in the future?
You really need to ask yourself this question: What is my goal? There are a lot of young people just graduating from university, and if those people can ask themselves the question about what they can do to be relevant in the future, rather than trying to go with the flow, they will be much more advanced than the others.