SMART Technologies Inc., 1992 NRC/ASTech Industrial Research (South) – Recipient
SMART Technologies Inc., 1997 Commercial Achievement In Alberta S & T (< $25M) – Recipient
SMART Technologies Inc., 2002 Commercial Achievement In Alberta S & T (> $25M) – Recipient
SMART Technologies ULC, 2009 Outstanding Achievement In Information And Communications Technology Innovation – Recipient
SMART Technologies was founded in Calgary in 1987 as a distributor for a US based projector company. The revenue SMART earned as a distributor was used to develop SMART's flagship product, the SMART Board. Introduced in 1991, the SMART Board is an interactive white board which can now be found in classrooms worldwide.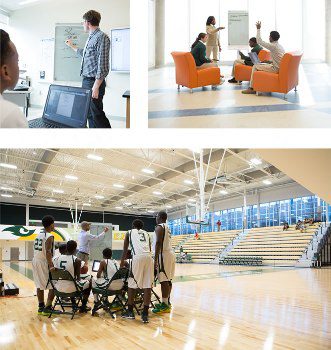 SMART has continued to innovate and create new technology. Their latest, SMART Kapp, is a white board that allows users to take a snapshot of the writing on the board, and share it to other devices.
Warren Barkley has been SMART's CTO for the past two years. Prior to SMART, he worked at Microsoft for 16 years, after starting his career as a music teacher.
What does SMART Technologies do?
The company has been around for almost 30 years and has put three million SMART Boards in classrooms worldwide. We also have a $100 million enterprise business which is all about collaborating and getting people to work together more effectively.
Describe your average work day.
I have about 400 people who work for me, so I spend most of my time in meetings, working with the CEO on strategy and doing product reviews. I do a lot of analyst relations; talking to customers and partners.
What keeps you motivated?
There are always new problems every day. Being creative and solving those problems is what keeps me excited about coming to work. There is an endless supply of things to do and cool products to build.
What drew you to SMART?
I was at Microsoft for 16 years, but before that I was a teacher. I was excited about getting into educational technology again. I also enjoy being in a smaller company where things move a little bit faster and I can be a bit more agile.
What's different now?
I've only been here a couple years. The company did very well in education for about 10 years. It was relatively straight forward and the market was booming. Today we are looking at building new market categories beyond education so things have changed quite a bit.
Can you describe some recent successes for SMART?
SMART Kapp is re-inventing the white board. It won most innovative Bluetooth product at Infocomm [an annual technology conference], which is the sixth industry award the product has since July 2014.
Can you describe SMART Kapp?
We re-imagined the dry erase board. People can write on it using normal dry erase pens, and sync it to their phones. It can be shared in real time and anyone with a browser can watch as you draw on it.
What's next for SMART?
We're pretty excited about Kapp; we think that will grow into a very large business. We've pivoted in education to be more focused on software, so our software business is growing by several hundred percent per year. Those are the big pieces as we look to the next year.
Do you have any advice for people wanting to break into the tech industry?
It comes down to creativity. I don't have a formal engineering background. I didn't know computer science; I'm really a music teacher by trade. It's about creativity, intellectual horsepower and believing in what you want to do. I think getting a basis in coding and science is a good idea. If you can put those things together and you have the ability to solve problems in a creative way there is a place for you. It's about getting the experience, so find ways to get experience in problem solving, whether it's working for free or in the non-profit sector.