The Impact of Alberta Innovation, 1989 – 2019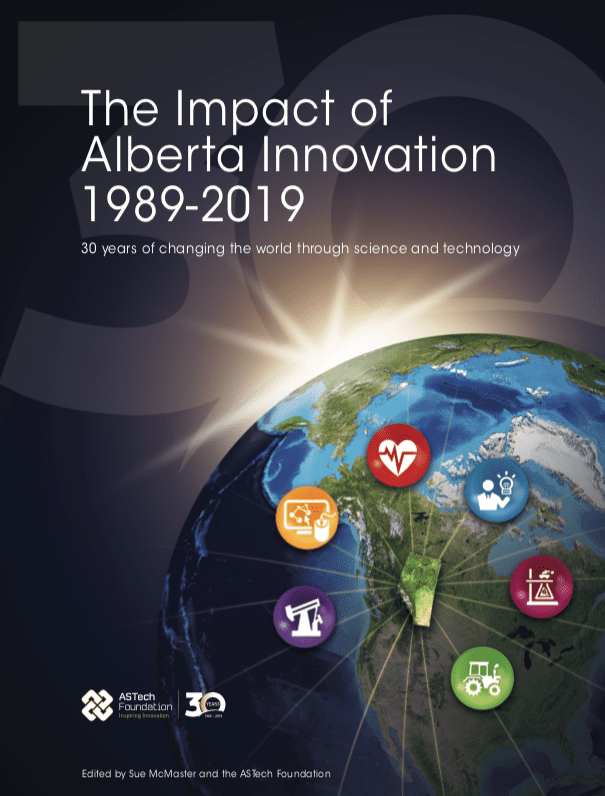 This book highlights the perseverance, grit and determination which resulted in breakthroughs that changed the way we live our lives. It's a snapshot of the best of Alberta's global impact over the past 30 years and it highlights the 30th anniversary of the ASTech Foundation.
The Impact of Alberta Innovation celebrates more than 50 people and organizations in a range of sectors, including Energy, Agriculture, Health, Technology, Science & Engineering and Entrepreneurship.
Enjoy reading about SAGD and bitumen balls; Alberta canola and smart farms. We cover the Edmonton Protocol for type-1 diabetes and new ways to detect colon cancer. Read about the development of SMART boards and GPS technology and the incredible entrepreneurial talents of several wildly profitable enterprises.  There is something here for everyone.
This book is an easy read and perfect inspiration for students, entrepreneurs and researchers. Yes, you CAN be successful in Alberta and here's the proof!
The first and only run of hardcover copies is almost SOLD OUT.
Get them for $60 each before they're gone. 
Call Jill Cross: 403-835-0860
VISA and MC accepted.