2022 Winner: Recognition Of Regional Innovation - Lloydminster
Initiative: Lakeland College Indigenous Student Support Services
Lakeland College (Indigenous Student Supports) embraces cultural diversity and provides a space where Indigenous students feel safe, acknowledged and at home. With a direct connection to the President of Lakeland College, Indigenous learners have the opportunity to express the impacts of their learning experiences. Indigenous learners have access to cultural spaces, traditional experiences, and connections to Elders that support their education at Lakeland College.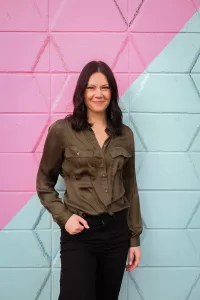 Rikki Ducharme, Manager of Indigenous Student Support Services, Lakeland College
Rikki is part of the team that provides a supportive and welcoming environment for Indigenous learners, through a grassroots approach – where Elders, students, and staff develop activities that support student success. By identifying the needs of Indigenous students – Indigenous Student Support Services has evolved to support Reconciliation and the educational Calls to Action.