2015 Winner: Outstanding Science And Technology Start-Up
Reimagining oil production with next-generation technology
When making a big discovery, it's easy to get distracted by all of the doors that open. This is especially true for Calgary-based Luxmux Technologies and President Yonathan Dattner. The Silicon Nanophotonic FTNIR-based spectrometer on a chip under development by Dattner and his team has a seemingly endless number of industrial and consumer applications.
"Luxmux is developing a brand new Nanophotonics-based technology foundation for spectroscopy, designed to power the next-generation of instrumentation across a broad range of industry and consumer markets," says Dattner.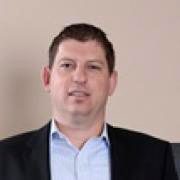 "The first targeted industry is oil and gas because it's right in our back yard, but the oil industry is just the beginning," Dattner says. "Many industrial processes can benefit from these new capabilities and we plan to monetize current applications as the technology evolves to our ultimate vision of a consumer ready spectrometer integrated into your smart phone."
While the technology sounds complicated – its full title is Silicon Nanophotonic Fourier Transform Near Infrared Spectrometer-on-a-chip – what it does is easily explained. The device scans an object, and reports on its molecular makeup.
The Luxmux device stands out as a result of its miniaturization, integration and performance. Luxmux has integrated a powerful light source and high resolution spectrometer in a small butterfly package with no moving parts.
Building a suitable device
Currently, Dattner and the Luxmux team are working with their first technology licensing partner, Agar Corporation, to develop a first of it's kind steam quality analyzer powered by the Luxmux technology. The analyzer enables heavy oil producers using in-situ processes like Steam Assisted Gravity Drainage to maintain better control over steam quality – a major factor in optimizing the production process.
"For the oil industry, steam quality is a big problem as currently there is no online solution to measure steam quality available in the market today," Dattner says.
"Boiler efficiency and optimization are the targets of this application which lead to a substantial reduction of greenhouse gas emissions and water consumption in heavy oil operations," he adds.
Dattner says focusing initially on a single application for the product is important to ensure its success. If the product is successfully commercialized in the short term, Luxmux can leverage that success to tackle new applications.
"As we further develop our core technology, we see more applications for which our products can be used, such as pipeline gas composition measurements, water analysis and air quality monitoring," Dattner says. "We expect these initial applications will allow us to grow the company to the stage where we can bring the hand-held spectrometer on a chip to the consumer market, which is our long-term vision."
Tackling one application at a time
The Luxmux technology has the potential to be used in various applications such as air quality measurement, food composition analysis and skin cancer detection. As such, it was difficult for Dattner to decide on a starting application.
"We started with the core technology rather than the core problem," Dattner says."We were always under the impression that we have a platform technology that could be used in numerous applications."
While working with industry partners, Dattner realized the importance of giving each individual application the team's full attention. The proximity between Luxmux and oil producers resulted in the product's first application of enabling a more efficient oil recovery operation.
"Beyond that market, we have the rare opportunity to cherry pick the key market opportunities we will attack directly with our own products while employing a technology licensing strategy to penetrate market segments outside our core focus," says Dattner.
Dattner still keeps one eye focused on his initial vision to get the product into the hands of the consumer.
"A hand-held Luxmux Spectrometer, linked to your mobile device, could tell consumers the molecular structure of the food they eat, the vitamins they take, the shampoo they use or the water they drink," Dattner says.
The Luxmux technology will "empower consumers like never before," Dattner says. "Helping people with severe peanut allergies avoid ingesting peanuts accidentally or identifying E.coli contaminated meat before eating it are two examples of what will be a real game changer for consumers. That's really where we see this innovation going."