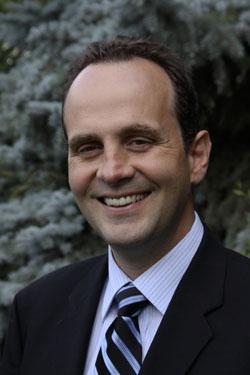 Airdar Inc., 2009 Outstanding Achievement In Applied Technology And Innovation, sponsored by SAIT Polytechnic – Recipient
Airdar Technology Inc. tracks the location, size and timing of emission sources. The technology, developed by company president Dennis Prince, measures air quality to track emissions back to their source and shows how air quality varies over time. 
Mr. Prince, an environmental engineer, developed the technology with the oil and gas industry in mind but has recently shifted focus to waste water treatment. The same technology that tracks emissions from oil and gas operations can also be used to track odours in waste water, thus allowing waste water plant owners to make informed decisions about odour management.
Can you describe what Airdar does?
Airdar is an emission source monitoring technology. Using measurements of ambient air quality we can track the plume signatures back to the sources and quantify them, showing how they vary over time.
Using simple means, we are measuring air concentrations of compounds and measuring wind speed direction which we can use to provide extra information about emission sources.
What lead you to get into this area and develop your product?
I am an environmental engineer and generally, the question asked of environmental engineers is, "what resulting concentrations will there be due to a certain development if you build a refinery or an industrial development?"
I was asked, "what is the exposure for people in the area, and what are the pathways to exposure?" That led me to look at a lot of air quality data and I realized I could see plume characteristics in raw data. If I could do that from one observation position, observing from multiple positions would allow me to triangulate the source's location.
What is your current role?
I am president of the company and I still lead technological development. We are still small but we anticipate there will be a breakthrough when it is realized how easy it is to characterize emission sources. We are trying to find circumstances where we can be of value to our clients and help them with their business.
What has Airdar been doing since 2009?
We continued to focus on the oil and gas sector, and are now diversifying into odours at waste water treatment plants. The challenge is finding a client that really needs to know what their emissions are. We thought the oil and gas sector was the obvious fit but we weren't able to entice that market like we hoped.
The waste water treatment plants in large cities have odour issues, so they are a much better client for us. We provide information on the odours to help them make good decisions about managing those odours.
Where there any specific people or organizations that helped you on your way?
We got lots of support from the oil and gas industry. Clients would do pilot and demonstration projects and there are a lot of people who helped. I also got help from the Calgary Council for Advance Technology, Industrial Research Assistance Program and the Scientific Research and Experimental Development Tax Incentive Program.
Lawrence Spackman, chairman of Aidar's board of directors, was a strong supporter. Martin Kratz at Bennett Jones LLP is helping guide the company and Bennett Jones LLP is doing all of our patent work.
What are your plans going forward?
We would like to emerge in the municipal market. If that grows, we'd like the oil and gas market to grow as well. We'll be monitoring data from around the world and giving companies actionable data on air emissions.